Sympoiesis
Opening reception: Wednesday, June 12, 2019. 6-8 pm
Artists: Cristine de Bem e Canto, Clare Benson, Yujia Bian, Emma, Petja, Ansel Oommen, Scott Robinson, Ernesto Solana.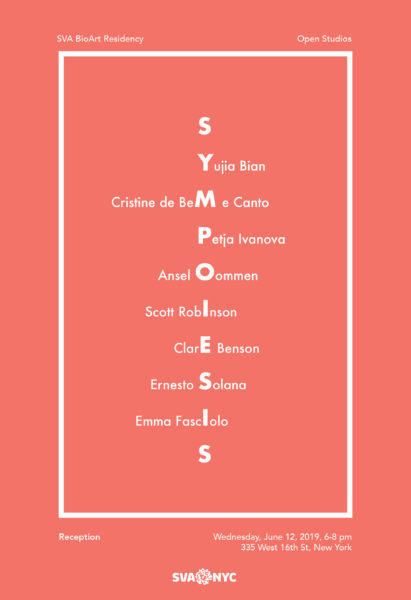 The School of Visual Arts (SVA) presents a group exhibition highlighting the work of eight artists and scientists, produced at SVA's Bio Art Lab. Entitled, Sympoiesis, this exhibition speaks to Donna Haraway's concept of boundaryless systems. Like complex, self-organizing, and collectively produced networks, the works in the exhibition range from video, installation, photography, sculpture, 3D printing, and living matter. Both materials and processes speak through the biological world as a matrix of metaphor. Materials include bacteria, fungi, plant and marine life, fish skins, as well as found artifacts and technologically driven programs.
Cristine de Bem e Canto (Brazil) interrogates the medium of photography as a conceptual and aesthetic language. While exploring the morphology, physiology, and reproductive mechanisms of plant and fungi, her work confronts sexuality across social systems. Clare Benson (USA) uses her work to explore the human-animal spectrum, through lenses of tradition, ritual, science, and mythology. Yujia Bian (SW China) explores nature's conceit through metaphor. With humor, satire, and myth, her work generates stories of nature's dynamism, through its materials and their interactions. Emma Fasciolo (USA) is a multi-media sculptor. Her bio-art installation focuses on the idea of synthetic biology by creating an organic environment with inorganic materials. Petja Ivanova's (Bulgaria) work concentrates on organisms with exoskeletons and the way in which they represent the other. Ansel Oommen, MLS(ASCP) (USA), employs the concept of transparency in both biology and its behavior. Through chemical means, his work highlights and obscures the human desire to engage with the unknown. Scott Robinson's (USA) work is a formal expression of the mysterious interplay of consciousness and the forces of nature. His interest is circumscribed by artificial aspects of our contemporary environment and society. Ernesto Solana (Mexico) makes visible the tensions between natural and artificial realms. His concepts include urbanisation and colonialism, and the ways they clash. He works in various mediums: photography, sculpture, and installation.
Please join us for a public reception on Wednesday, June 12, 2019, 6:00-8:00PM at 335 W 16th St. in New York City.
---
Bio Art
SVA Art and Science Laboratory
School of Visual Arts, New York
The Bio Art Lab was founded in 2011 as part of the SVA's BFA Fine Arts new facility consisting of 54,000 square feet in the heart of Chelsea, NYC. The Lab was founded and is directed by Suzanne Anker, Chair of the BFA Fine Arts Department. Conceived as a place where scientific tools and techniques become tools and techniques in art practice, the Lab is the result of many people's expertise, research and sustained effort. Such deftness and collaborative efforts continue to remain crucial in developing this facility to its full potential.
Joe Tekippe and Luis Navarro were responsible for all high-tech computer access including our full range of hardware and software installation and maintenance. More recently Michael Falk has coordinated, experimented with and set up the necessary photographic resources we need in place for our microscopic image making. Daniel Wapner and Sung Jin Choi used their skills to seamlessly build both stainless steel and aluminum stands housing our fish and plants. Mark Rosen set up a check-in check-out system for our library. Brandon Ballengée added his knowledge concerning fresh water fish and frog tanks in addition to the acquisition of a chemical hood where the preservation of specimens and cleaning and staining of aquatic animals could take place. Dr. Ignacio Lopez-Coviella was a great consultant in developing our microscopic practices, pointing us in the direction of three types of microscopes: a compound microscope, a dissecting microscope and an inverted microscope. Marine biologist Joe Di Giorgis expanded our collection of microscopes by loaning us a full array of dissecting microscopes and analyzing the camera requirements for each. Molecular scientists, Oliver Medvedik and Ellen Jorgensen from Genspace consulted in regard to our incubators, HEPA filter and autoclave as well as helping to design projects relevant to Bio Art practice. Ellen and Oliver are also our current "scientists in residence" working with students on the use of bio-materials for art projects and the barcoding of plants from the surrounding environment. Tarah Rhoda researched labware, lab rules and formats for molecular cuisine and tissue culturing as well as lighting systems for plants and lab protocol, safety and workflow. Many student workers were instrumental in maintaining the live plants and organisms in the Lab with care, integrity, and enthusiasm. And I say the same for the various visiting artists who have shared their expertise with us (see separate link.) Scott Vaughn of NY Aquarium in NYC manages our salt water aquarium which houses coral, an anemone, hermit crabs and starfish. Sebastian Cocioba from NY Botanics, introduced techniques for plant tissue culturing of African violets and venus fly-traps. He is also developing an "SVA" palette for painting with bacteria. Sebastian and Sung have been helping us develop a molecular biology component of our lab employing PCR practices, synthetic biology and forensics in analyzing molecular data. Raul Gomez Valverde has designed our micro website, www.bioart.sva.edu, and has produced outstanding pictures of student works produced in situ. George Boorujy has donated marvelous taxidermied duck specimens which appear as if in flight. And of course our great thanks to President David Rhodes and Provost Jeff Nesin for allowing us to go forward with this great resource.
Save
Save
Save
Save
Save
Save
Save
Save
Save
Save
Save
Save
Save
Save
Save
Save
Save
Save
Save
Save
Save
Save