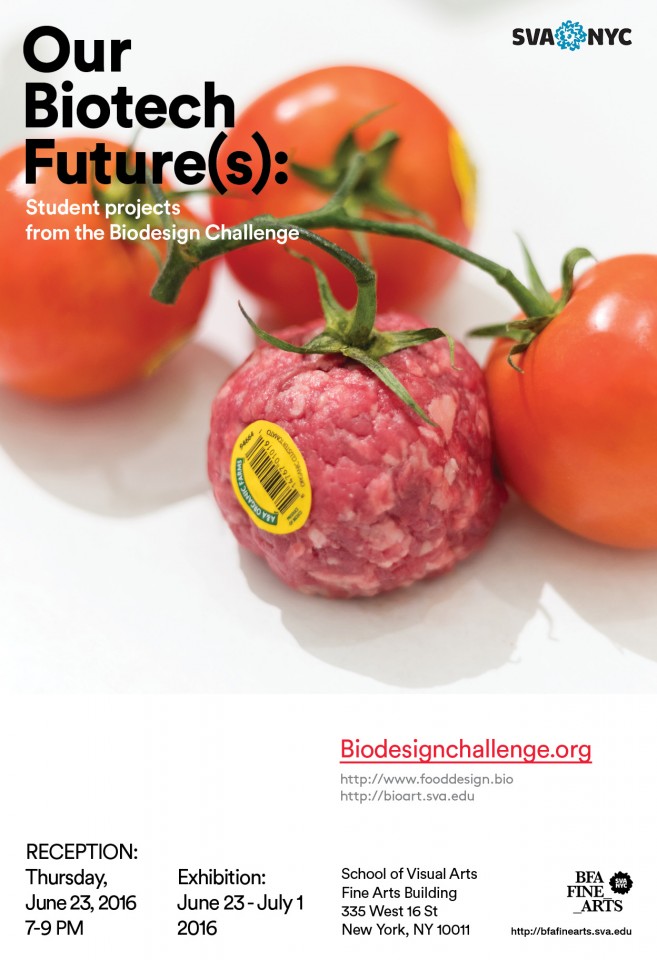 Our Biotech Future(s): Student projects from the Biodesign Challenge
Opening Reception
Thursday, June 23, 2016
7-9 PM
SVA Fine Arts Building
School of Visual Arts
335 W 16th St, 3rd Floor
New York, NY 10011
Please join us for the gallery opening of Our Biotech Future(s): Student Projects from the Biodesign Challenge at School of Visual Arts (SVA).
Nine art and design teams from universities across the United States showcase their visions of the future of biotechnology. Chosen from dozens of students, the finalists worked throughout the academic year with art and design professors, scientists and subject-matter experts to explore the many possible ways biotechnology could affect our environment and our lives.
Playing on the title of physicist Freeman Dyson's seminal essay, "Our Biotech Future," the show presents a multiplicity of "futures," some of which align, while others clash. Learn more about the projects at Biodesignchallenge.org.
The gallery show will run from June 23 – July 1, 2016 at SVA Fine Arts Building.
Light snacks and drinks will be provided.
Schools
Stabilimentum, University of Pennsylvania
Mónica Butler, Rebecca Van Sciver, Jiwon Woo
Float Farm, New York University
Ayaka Habu, Carter Bird, Theo Mandin-Lee

MyoTomato, School of Visual Arts
Andrew Cziraki, Victor Taboada, Darya Warner & John Wells
Mutua, Southern California Institute of Architecture
Mun Yi Cheng, Caleb Fisher, Brendan Ho, Ryan Odom, Anthony Stoffella & Xiangtia Sun

Symbiosis, Carnegie Mellon University
Stowe Hammarburg, Daniel Kim, Yooyoung Ko, Zachary Schwemler & Jessica Shen

Liver Clear, Rensselaer Polytechnic Institute
Amanda Harrold, Kathleen McDermott, Jacob Steiner and Perrine Papillaud
Starter Culture, Maryland Institute College of Art
Gage Branda, Sarah Whelton, Jake O'Hagan, Emma Whitlock

Dewpoint, School of the Art Institute of Chicago
Bailey Beatt, Maurice Hampton, Jackie Huang, Sam Scheib
Bioesters, Fashion Institute of Technology
Tessa Callaghanbe, Gian Cui, Aleksandra Gosiewski, Theanne Schiros, Asta Skocir
Bio Art
SVA Art and Science Laboratory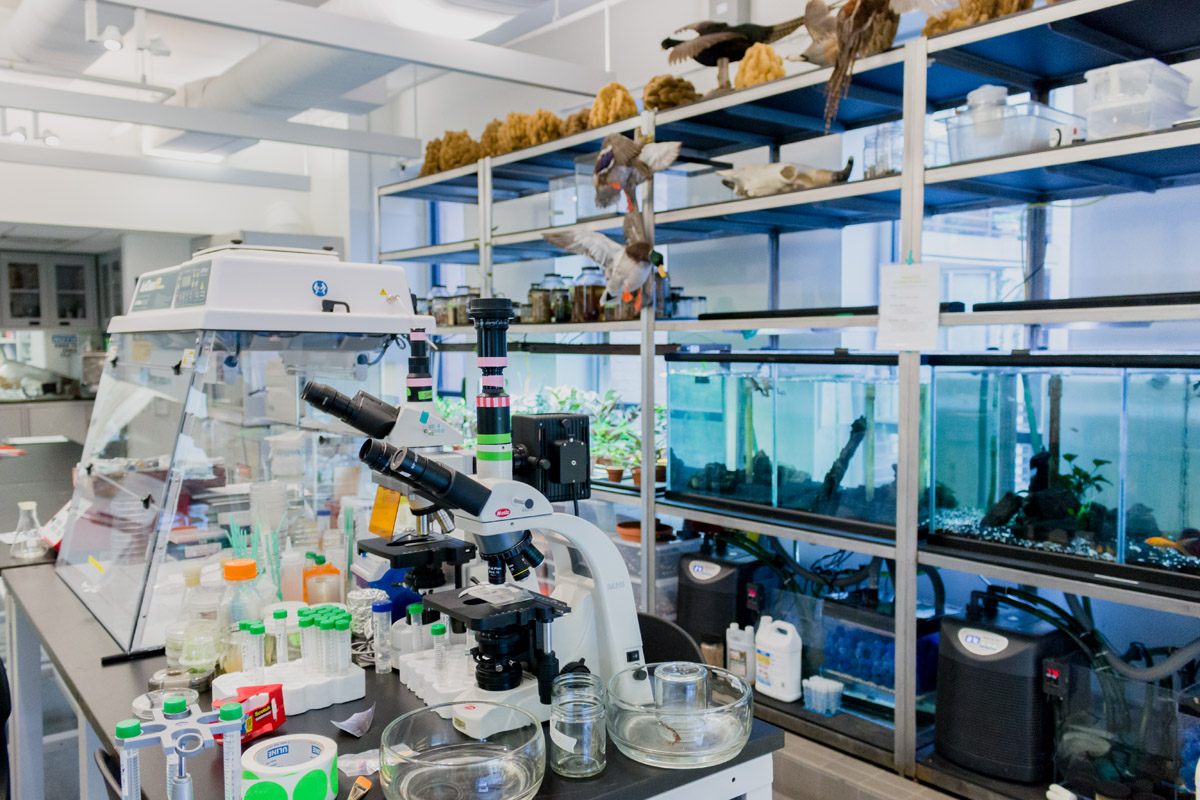 Bio Art Lab. SVA BFA Fine Arts
School of Visual Arts, New York
The Bio Art Lab was founded in 2011 as part of the SVA's BFA Fine Arts new facility consisting of 54,000 square feet in the heart of Chelsea, NYC.  The Lab was founded and is directed by Suzanne Anker, Chair of the BFA Fine Arts Department.  Conceived as a place where scientific tools and techniques become tools and techniques in art practice, the Lab is the result of many people's expertise, research and sustained effort. Such deftness and collaborative efforts continue to remain crucial in developing this facility to its full potential.
Joe Tekippe and Luis Navarro were responsible for all high-tech computer access including our full range of hardware and software installation and maintenance. More recently Michael Falk has coordinated, experimented with and set up the necessary photographic resources we need in place for our microscopic image making. Daniel Wapner and Sung Jin Choi used their skills to seamlessly build both stainless steel and aluminum stands housing our fish and plants. Mark Rosen set up a check-in check-out system for our library.  Brandon Ballengée added his knowledge concerning fresh water fish and frog tanks in addition to the acquisition of a chemical hood where the preservation of specimens and cleaning and staining of aquatic animals could take place. Dr. Ignacio Lopez-Coviella was a great consultant in developing our microscopic practices, pointing us in the direction of three types of microscopes: a compound microscope, a dissecting microscope and an inverted microscope.  Marine biologist Joe Di Giorgis expanded our collection of microscopes by loaning us a full array of dissecting microscopes and analyzing the camera requirements for each.  Molecular scientists, Oliver Medvedik and Ellen Jorgensen from Genspace consulted in regard to our incubators, HEPA filter and autoclave as well as helping to design projects relevant to Bio  Art practice. Ellen and Oliver are also our current "scientists in residence" working with students on the use of bio-materials for art projects and the barcoding of plants from the surrounding environment.  Tarah Rhoda researched labware, lab rules and formats for molecular cuisine and tissue culturing as well as lighting systems for plants and lab protocol, safety and workflow. Many student workers were instrumental in maintaining the live plants and organisms in the Lab with care, integrity, and enthusiasm. And I say the same for the various visiting artists who have shared their expertise with us (see separate link.) Scott Vaughn of  NY Aquarium in NYC manages our salt water aquarium which houses coral, an anemone, hermit crabs and starfish. Sebastian Cocioba from NY Botanics, introduced techniques for plant tissue culturing of African violets and venus fly-traps. He is also developing an "SVA" palette for painting with bacteria. Sebastian and Sung  have been helping us develop a molecular biology component  of our lab employing PCR practices, synthetic biology and forensics in analyzing molecular data. Raul Gomez Valverde has designed our micro website, www.bioart.sva.edu, and has produced outstanding pictures of student works produced in situ.  George Boorujy has donated marvelous taxidermied duck specimens which appear as if in flight.  And of course our great thanks to President David Rhodes and Provost Jeff Nesin for allowing us to go forward with this great resource.
Save
Save
Save
Save
Save