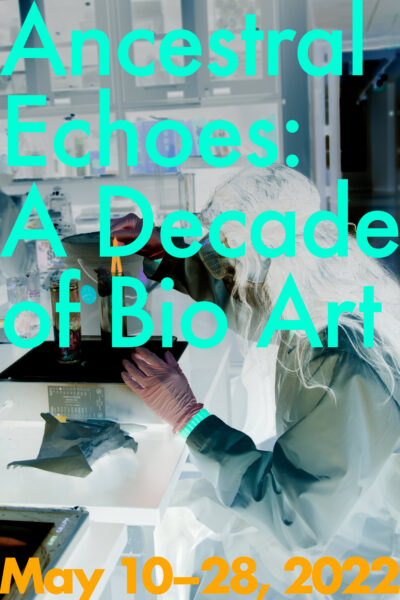 Dear Friends and Colleagues,
Greetings from the SVA Bio Art Lab!
The Fine Arts Department will be holding an exhibition this summer to commemorate over 10 years of Bio Art at SVA, curated by BFA Fine Arts Chair Suzanne Anker and Bio Art Lab Manager Tarah Rhoda. As an artist who has engaged with the Bio Art Lab, we invite you to submit your work that is relevant to the field of Bio Art for consideration in this exhibition. Submissions are due by Friday, April 1st.

We look forward to hearing from you and seeing more of your work!
Suzanne Anker and Tarah Rhoda
Exhibition
Ancestral Echoes: A Decade of Bio Art at SVA
On view: May 10 – 28, 2022
Reception: Thursday, May 19th
Location: SVA Gramercy Gallery, 209 East 23rd Street, NYC
Submission Details
Submission due: Friday, April 1st
Artwork submissions may be sent in one of two ways:
Option 1: PDF submission with the image of the artworks including title, dimensions, and material.
Option 2: A direct link to a website, Dropbox folder, etc. Title, dimensions, and material must be listed with the images.
Other info
Submitted work must be relevant to the field of Bio Art.
Alumni may submit new work or work created during their Bio Art class or residency.
Applicants will be notified around the 2nd week of April of accepted artwork.
Shipping and handling must be paid by the artist or dropped off at the SVA Fine Arts Building.
International applicants that are submitting photographs can opt to have them printed by the Fine Arts Digital Lab to avoid shipping costs if their work is selected.
Accepted work must be delivered to the gallery by April, 29th
De-install artwork on 5/31/2022
Pick-up from SVA BFA Fine Arts Department 6/1-6/3/2022
Submissions due: Friday, April 1st
Image caption: Carolyn Angleton, Women in the Bio Art Lab, 2017.
(Featuring Sabrina Merayo Nuñez, alumna 2017)