COME JOIN US IN BONAIRE !!!
July 30th – August 6th, 2016

Beneath the hurricane belt of the central Caribbean lays the windswept island of Bonaire famed for its brilliant coral reefs, magnificent mangroves, and flocks of pink flamingoes. In this expedition, we bring our microscopes, SCUBA gear, and collecting nets to photograph this tropical wonderland and the tiny creatures that live above and below the waters surface. Along the way we will paddle our kayaks through the blue waters of the island coast, visit the sea-salt mines, and search out birds of paradise. We will scan the sea for bioluminescence and stargaze into the soft Milky Way. Come join us on this subequatorial adventure.
What we will do:
Bonaire more than any other island in the world is known for its shallow water reefs that are accessible from shore and only a fins kick below the waters surface making these waters a snorkeling and diving paradise. Here, we use underwater cameras to photograph marine organisms in their natural habitats and collect small creatures that we can image on land under our microscopes. There, we will study the fine detail and intricate structures of life – at a point where art and science merge in a labyrinth of discovery, understanding, and creativity. Through our journey we hope to combine music, art, science, and newfound friendships to create an unparalleled, once in a lifetime expedition – to create lasting memories and stories to be told. Come join us. Live Magnified!
$2,200 (airfare not included)
Joe DeGiorgis (Expedition Leader)
508.292.4605
joe_degiorgis@hotmail.com
Darya Warner (Chief of Operations)
646.491.2242
daryawarner@gmail.com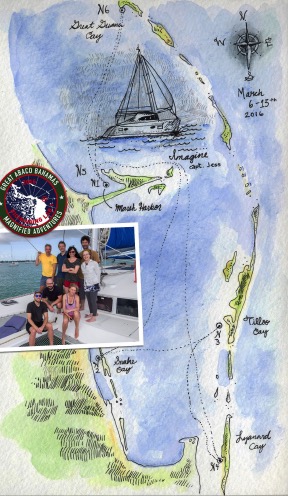 The image is of the expedition team of our last expedition ion ABACO Island in the Bahamas in March of 2016. From bottom left to right – Art Director and Head SCUBA Diver Chris O'Flaherty, Actor, Narrator and Chief Anchor Operator Arnaud Spanos, BioArtist and Head of Operations Darya Warner.
Top left to right – Expedition Leader Joe DeGiorgis, Lead Scientist and Underwater Cinematographer Lucas Pozzo-Miller, Artist and Naturalist Regan Rosburg, Environmental Artist/Photographer and Author Chris Jordan, and Snorkeling Aficionado and Head Chef Victor Jordan. Our trusted Captain Jess Berndt is behind the camera.
Save